Whitehorse
SS Klondike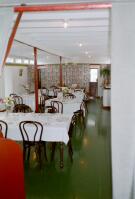 After arriving in Whitehorse, Sandra, Gogo and me decided to take the guided tour of the SS Klondike. The rest of the group went into town for shopping, reading email, ... . SS Klondike was one of the sternwheelers on schedules trips between Whitehorse and Dawson City during the goldrush and after. It has some briliant 1st class cabins and dining rooms. But I'd not want to travel 2nd class... . The tour was very interesting and we got to know a lot about the ship and the way people traveld those days.
After SS Klondike we all met in front of the laundromat and started cleaning our camping gear. From me previous treks I knew about whta to expect. It can be very hard and boring to clean all the gear after a long trek. But this time it was so easy. Although we were only a small group of seven and it was very windy, which made tent cleaning hard but drying the tarps very easy. But time actually flew by and after successfully repacking (such that we had easy access to what we needed on the ferry), we went to a Mexican place for a short lunch (almost takeway) before leaving towards Skagway.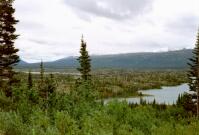 Highway 2 takes you through a very scenic landscape with lots of lakes embedded in a wide rock plateau. But we had no time for hiking any more. So we just stopped, took some pictures and off again to Skagway. The last bit of the road takes you up to white pass. Canadian border is a bit before white pass and then you drive through nomans land for quite a while. From White Pass the new highway parallels the historic Chillkoot Trail, one of the two ways for the gold diggers to get out of Skagway and the only one leading to Whitehorse (where they took SS Klondike to Dawson City). Just imagine hiking Chillkoot Trail with all the gear they needed.
Read about Skagway and the way back to Seattle on the ferry-page...
Pictures
Activities
SS Klondike guided tour
Clean-up
Shopping
Driving Route
From Haines Junction (Pine Creek) drive Alaskan Hwy 1 east to Whitehorse.
After Whitehorse take Hwy 2 south to Carcross. For Carcross continue on Hwy 2 south to Skagway.
You will cross the border into the U.S. at White Pass.
Hints and Tips
Efficient gear cleaning saves you a lot of time, which will allow you to see Skagway.
If only a few people want to see SS Klondike from the inside, the other guys can do the shopping for breakfasts (and lunches) on the ferry.
Hope you have good (dry) weather and not too much wind in Whitehorse for the cleaning session.
The big parking in front of the laundry or in front of the many grocery stores is a good spot for cleaning. You can even use the fence near the laundry to hang up your tent tarps to dry.
Stop somewhere on the way to Skagway and have a look at the many small lakes in the rocks.
Be prepared to enter the U.S. again (passport).
Links
---