Denali N.P.
Wildlife And Wilderness Camping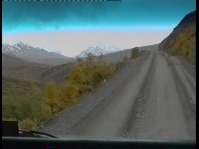 ... So still in the visitor center we bought some maps and had to attend the backcountry introduction. It was mainly about how to behave with regard to bears: all food and smelly stuff goes into bear boxes; don't bring too much of it; triangle camp - food storage - kitchen with wind blowing from camp; route selection; bear encounters; nature; ... very good information but we hoped we'd not need to much of it. Next stop was the general store in town. Shopping for three sandwich meals. Not much choice. And then back to camp where we had to prepare tons of sandwiches and our backpacks. We only had three backpacks. Eric needed one for himself carrying a tent, food, sleeping bag, camera and more. So we had two big packs left four the six of us for tents and our two bear boxes with food. Personal belongings, cameras, sleeping bag and water had to go into the personal day packs (or on top of them or however). So we packed two tents (a total of about 25 kilograms) into one and the two food boxes into the other backpack and added personal belongings too. But even though nobody really believed it, we managed to pack everything.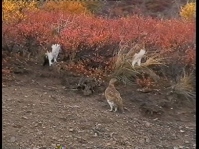 Next morning we took the camper bus around 9 am (that's the one we had the reservation for). We were very surprised. The camper bus was not full and there was a lot of spaqce for equipement. Already the relaxed bus ride was worth taking the adventure. But then the weather was not too good. In fact it was raining all the time and it was quite cold. We took a few foto stops on the way into the park. We saw quite some wildlife. Ptarmigans, cariboo, variopus birds and small animals and a few bears from very far. A bit more about the bus ride: YOu must get a ticket in advance. Normal tourist buses are usually fully booked a few days in advance. So book early. Camper buses should have enough seats since camping spots are limited. The park operates a bus fleet of old school buses. So there's not too much comfort for a potential 7 hours ride. Buses stop on request, either by passengers inside or by people waiting for the next bus. But they only take as many passengers as they have seats. You may change buses on the way. But it's not a good idea for campers. Buses also take longer stops at visitor centers and view points (some with toilets). But you must know yourself when your bus continues.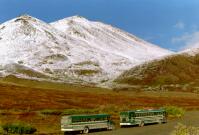 We finally arrived near Kantishna around 4pm. We discussed a strategy for our hike in advance. So we left the bus at the junction near Eureka Creek. There's a small road leading into the mining area. We started on this road. It was about a 90 minutes hike along the road and then another few minutes cross country till we found a nice plateau, which fullfilled the requirements for an overnight backcountry site (out of sight from the main road, a mile from te main road and inside the boundaries of our camping cell). There was still snow on the low bushes. So we found a spot with a bit rocky ground. But it was warmer tan sleeping on snow. We set up our two tents protecting each other against the wind. It was quite windy and who knew about te night...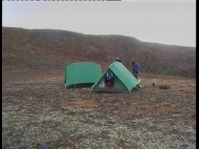 It was still cold but it stopped raining. At some point we could even see Mount McKinley through a hole in the clouds. After a short sandwich dinnerand minimal toiletry, we all squized into one single tent (originally used by two people) and played cards. No, I don't publish any of those pictures. Just imagine. And then, since it was getting colder and colder, we decided to sleep in one tent. Ok, Trevor prefered his own tent, but the five of us managed to share one tent, for the whole night, without major problems. It was just less cold and we were not blown away by the wind.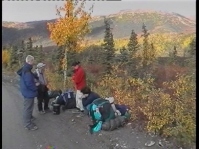 "Are you still alive???" Sebastian's sleepingbag was covered by some ice. But we all survived. We didn't feel like doing too much and so, after a late start and breakfast, we packed and left the place. The weather was getting better. We went the same way back and enjoyed the views down to Kantishna. We missed the early buses. So we had to wait for the last one (early afternoon). We hiked till about Camp Denali. But the bags were too heavy for a real long hike.
On the way back, the bus stopped a few more times for wildlife. We saw Mount McKinley (again), a wolf pack, a blond grizzley bear, some goats and a lot more common species. It was worth it. Sorry, unfortunatelly, most animals were quite far away.
Eric was already waiting for us at the visitor center. He took the first bus in the morning. He had a miserable night, was freezing all the time (should not sleep on the soft bushes if there's snow). We decide to have a pizza for dinner. Three pizzas were just too much, We were so tired. We took the rest with us. They server for lunch the next day on the way south...
And can you imagine how much we loved the shower back on Carlo Creek C.G.?
Pictures
Activities
Wildlife
Backcountry camping - wilderness experience
Beautiful hikes
Driving Route
Drop out and pick up at the Denali N.P. visitor center at park entrance.
Hints and Tips
Have enough film for good colors ready. Slides are worth it.
Be prepared to take photos from the bus.
Shout if you want the bus driver to stop. They stop for photos if possible.
Be well prepared and well equiped if you go backcountry camping.
Store food in bear boxes (provided by ranger for backcountry campers).
Buy a good TopoMap (waterproof topographic map).
Accommodations
Outside Denali N.P.: Carlo Creek Campground
Phone: (907) 683-2576
Showers, toilets, laundry, (pay) electricity
Very clean facilities
Denali N.P. backcountry camping: The Holy Macaroni Plateau
Near Wickersham Dome, Kantishna
No facilities, great adventure
Links
---