The Inside Passage
Mission (im)possible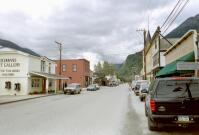 We came from Whitehorse. We arrived early enough and went down to the ferry terminal, where Eric got the latests information about the schedule and departure procedures. We had about two hours left to explore Skagway. Let's go. Skagway is a very pretty old city with mainly souvenir shops.
Back at the ferry terminal we prepared our mission. We wanted 7 deckchairs in the solarium. So we had to be first. Gogo, Michele, Sandra and Sebastian formed the pedestrian group. Trevor, Eric and me stayed in the van and ontinued listening to our sound track (limp bizkit - take a look around - theme from Mission Impossible). They let the pedestrians in first. Lucky us. We almost got in last with our van. They sort with respect to destiation and car size. But anyway the pedestrians reserved 7 perfect places to sleep. And we carried all the rest up from the van.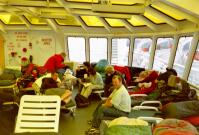 You may wonder why this place is called Solarium. This is a wonderful place. I've never seen anything like this before. YOu are on an international cruise ship. You camp on deck. Some people even have tents on deck (not allowed under the roof). Most people just have their sleeping bags and a deck chair (if they were quick enough). Now still, why Solarium. Under the roof they have mounted some warming lights, like in a real solarium, which make it a very comfortable place, sometimes even a bit warm, although you're sleeping on the deck of a ship on the sea in Alaska. You'll just love it, but you cannot imagine before you see it.
The ferry stops in most major cities on the way down south (also up north). But stops may be canceled due to tide conditions. Some stops are also just at night. You'll wake up and notice, but you'll not want to get out.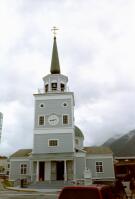 Sitka: The ferry terminal is a little outside the village, tof far to walk. There are buses running kind of a shuttle to town and some buses are also running sight-seeing tours. The organization was very chaotic. You buy the ticket on te bus. But you don't know which bus to take. And there were not enough buses. But we finally made it to town. When leaving the bus you must just know the schedule of the buses going back. You don't want to miss the ferry. They won't wait.
I first walked around town, had a look at the old Russian Church (from the outside only, but you can go in) and the totem poles and did some window shopping. Afterwards I went to the National Park entrance. I had not much time left. But I just wanted to get in and browse quickly. But the park was closed. So I walked back (about 15 minutes from the bus terminal) and took the next bus back to the ferry.
Wrangell: We just stopped for about an hour. It was about 7am. So we decided to find a place for breakfast and enjoyed a hot breakfast with all you like. Since all the shops were closed, there was nothing else to do but go back to te ferry.
Ketchikan: We stopped for a few hours around lunch time. So we decided to go out and look for something different for lunch. We ordered a taxi at the ferry terminal. It's about a ten minutes ride to town. You might also walk. But it was raining like I've only seen it rain in the tropics. But then again in town, not much but souvenirs and food. We enjoyed something slightly different to the standard ferry food and went back.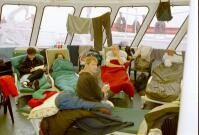 Life on the ferry: There's not too much to do on the ferry. But some things are still worth mention. First of all life on deck is very special. If the weather is bad, nobody is out on deck. People stay in the solarium or go into the ferry, watch some movies, read, write postcards, eat, drink, ... There is a restaurant, a bar and a cafeteria and there are also many rooms with just seats or some with seats and tables. In some rooms people sleep on the seats or on the floor. Of course, there are also cabins. But no camper would reserve a cabin on the ferry.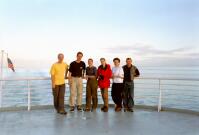 If the weather is good, you'll find a lot of people on deck. People playing (hacky sack), playing music and singing, just relaxing, runing or hiking around the decks. It's just a peaceful athmosphere and people enjoy their time. From time to time, we tried to spot some animals. But we only saw some very distand whales and lots of birds. And towards the end of the journey, people start taking group photos - hey guys of the other group, you promisd to ublish the big group photo on the web, where is it?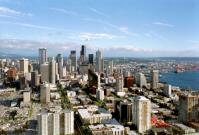 That was already almost the end of the tour. We left the ferry in Bellingham, drove to the nearest Walmart (actually the one where we stopped the first day) to return the unused gear (money back) and then drove directly to Seattle. Noone wanted a guided tour of Seattle. We all knew it well enough. So we all just ran away from each other and started real shopping back in a real city. We met at the Space Needle (need a reservation) for a late lunch before Eric had to leave and drive the van back to L.A. Gogo, Michele and Sebastian stayed in the Green Turtoise down town, Sandra in a luxury hotel and Trevor and me shared a room in the Holiday Inn Boeing Field, where we started four weeks ago. In the evening, some of us met again for a night out. But it was a short night. You absolutely need a passport to enter any place selling alcohol, even if you're over 30.
This was the end of a fantastic tour with fantastic people and a great tour guide. Thanx all for making this trip such a wonderful experience. I try to provide some souvenirs and some help for future passengers trip preparation. But first of all I wrote this web site as a souvenir for myself. So please understand that it is all just my very personal view. You'll enjoy it your way. But you'll enjoy!
Pictures
Activities
Sight-seeing
Games, movies, talking
Jogging the ferry decks
Driving Route
Take the ferry in Skagway (follow signs to the terminal of the Alaska Marine Highway).
The ferry takes you to Bellingham via

Juneau (night on our tour)
Sitka: National Park, souvenir shopping
Petersburg (night on our tour)
Wrangell: breakfast
Ketchikan: Sight-seeing, lunch, a lot of rain

The ferry only stops in the U.S., never in Canada.
Leave the ferry in Bellingham (no choice).
From Bellingham take Highway 5 south to Seattle.
Hints and Tips
Pack well. But I told you before.

A day pack with changes of cloths for four days (but be aware, there's nowhere to get dirty), toiletry and your gadgets.
Sleeping bag. A cover may help if it's raining.
Pad or therma rest.
Cameras!
Leave your big bag inside the van. You may access it when the ferry stops.
Coolers and food boxes.
Also bring tents if you like. But you must have a very good sticky tape or some heavy items (such as coolers) to fix the corners on deck. I'd not recommend tents unless you have nowhere else to sleep or leave your stuff.

Prepare to rush the ferry in two groups. Officials will tell you that it not needed. But you want the best spots. So you'd better be first. The group walking in (passenger entrance) is most likely first and will need some items to put onto the "reserved" chairs.
Bring very waterproof cloths if you leave the ferry in Ketchikan. It's always raining hard.
Leave the ferry whenever you can. There's nothing much to do on the ferry, no physical activities.
Think about food. Bring some breakfast and sandwich stuff with you. The food in the ferry restaurant is cheap and ok, but not very gourmet and getting boring after two days.
You all leave the ferry in the van. Be prepared to rearrange bags after a short drive out of the ferry (chaotic, if the van is full).
Accommodations
Inside Passage: M/V Malaspina
Shower, electricity, movies, ... and much more
Links
---