From Dawson to Denali
Alaskan Colors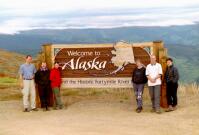 When we left Dawson City, the landscape was still quite covered by clouds. We did not know what we had to expect. The first attraction was the border at Poker Creek. Michele had to get her forms done to enter the USA (since she joined us in Vancouver). And then photo stop at the big Alaska sign. Here we are! Welcome to Alaska!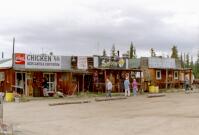 Almost forgot to mention Chicken. How could I? Chicken is diveded in three main areas. There's Chicken, downtown Chicken and Chicken post office. You first enter Chicken, a few houses and a gas station. But you'd rather decide to continue to downtown Chicken, another two or three minutes drive. Downtown Chicken: three buildings and and old gas station. The backery has some marvelous cinamon rolls and other nice cakes. You'll find too many souvenirs in the general store. But unfortunatelly, tha bar was not open at that time of the day. So we finally contnued to see the post office. It's located a little outside town. It's just one house. But they have a very unique stamp. So sending postcards from here is worth it. You may even send one to yourself. Be prepared.
We did lunch at Tok Junction. The visitor center as ha lot of useful information about Alaska and also some videos. The restaurant accross the street sells excelent hamburgers and the shop down the street has all kinds of small snacks and sandwiches but was closed.
Driving down Alaskan 1 and up Richardson Highway to Paxson was not too spectacular. But then, after a long drive, we finally entered Denali Highway on the final 22 miles approaching Tangle Lakes area.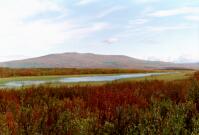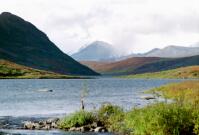 The whole way along Denali Highway is very impressing. It was so colorful. You can only imagine if you see it yourself. The time was perfect. Red bushes, green and yellow trees, blue sky and deep blue lakes! We stopped at Tangle Lakes lodge for the night. But before dinner, we had to go on a short (about 2 hours) hike. There are lots of trails in the area. Just ask at the lodge. In the evening we had our salmon (sa.mon !!!) bake dinner. It was excelent. It's just a different taste! Fresh salmon!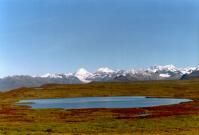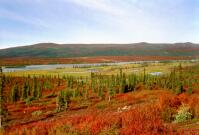 After a very nice night in the cabin and enjoying the nice showers, we started towards Denali N.P. It was a wonderful day. So we enjoyed the ride along Denali Highway. We stopped near Denali for a short hike and for lunch in a small village. And we took tons of pictures. Colors!
We finally approached Denali N.P. We went staright to the visitor center to prepare the next day. We just wanted to book a bus tour. You have to book in advance, sometimes even many days in advance. But we all felt somehow like advaenture. Back country camping? Why not? So lets give it a try. The ranger found a spot at the very end of the park which would fit 6 people. Eric had to go on his own anyway. So short back country introduction; how to handle bears, and we booked it. Read the details on the next page ...
Pictures
Activities
Enjoy the colors (Denali Highway)
Explore Chicken
Post card from Chicken (original stamp)
Beautiful hikes
Driving Route
Take "Top of the World Highway" west (do not go back accross the ferry).
Enter Alaska at Poker Creek.
Continue to Tok Junction (Taylor Highway).
Take Alaskan Highway 1 south direction Gulkana.
Between Gakona and Gulkana turn north (right) and take Richardson Highway to Paxson.
Turn west (left) to Denali Highway in Paxson.
Alternative route: Alaska Hwy west in from Tok to Delta Junction. Richardson Hwy south from Delta Junction to Paxson.
Stop at Tangle Lakes Lodge for the night.
Continue on Denali Highway to Cantwell.
In Cantwell turn right (north) on George Parks Highway.
Drive to the Park Entrance of Denali N.P. (left before Kinley Parks village).
Go back to your camp ground on George Parks Highway.
Hints and Tips
Have enough film for good colors ready. Slides are worth it.
Post a post card in Chicken. They have a unique stamp.
Prepare your Denali tour early. Book bus tickets at the visitor center when you arrive. Think about backcountry camping.
Accommodations
P. O. Box 670386 Chugiak, Alaska 99567 Phone: (907) 688-9173 Fax : (907) 688-9174
Showers, toilets, warm water, electricity
Salmon bake (recommended!)
Cabins
Links
---