Anchorage
The "Big" City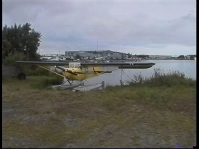 We just stopped in Anchorage for a night. We arrived early evening. Sorry, but I had to do my laundry and so did Eric. So while the others were cooking and planing the night, we went to the next laundromat, which was about a 15 minutes drive. The place closed at 7pm. Not much time anyway.
After dinner we went to town and enjoyed a movie call "What lies beneath" - nice horror movie ... to funny to be scarry.
Next morning we had some time in town. We went to the cyber cafes, had breakfast and email, did some shopping and then ... went to see the airport. This was an interesting airport. You can drive over run and taxi ways and see the water planes from very near.
Now off to McCarthy. We had a long drive ahead of us. Read more about that on the next page.
Pictures
Activities
Shopping
Internet
Movie theater
Driving Route
From Seward take Hwy 9 north direction Anchorage.
Join Hwy 1 after Moose Pass.
Continue on Hwy 1 north to Anchorage.
Hints and Tips
Don't plan to do laundry in Anchorage. You may not have enough time.
Use cyber cafes in Anchorage (morning).
Enjoy active night life. It's probably the last chance before Seattle.
Accommodations
Phone: 907 333-9711
Showers, toilets
Not very safe
Links
---