From Vancouver to Hyder
Get Hyderized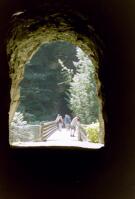 After this last stop in civilization, were on the way to Alaska. It's just a long drive north. But there are a few attractions on the way. You'll find lots if you try.
Our first stop was Othello Tunnels near Hope (tanks Sebastian for reading your guide book). Othello Tunnels is a series of tunnels of a former railway line. People say it was the most expensive railway in Canada. The railay was abandoned in 1961 after lots of problems with rock slides and avalanches. It's a nice hike through the tunnels along the river canyon. We also used the opportinity to have lunch in the park.
After a short Dairy Queen stop we went all the way to Lac La Hache. This was Erics (dinner) dinner and the trip orientation evening.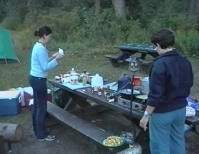 Next day was another long driving day. After so many phone calls we finally managed to pick up Gordana's and Sandra's bags from the airport in Prince George.
Smithers camp ground was not so easy to find. But finally we found it with the help of a few locals. The camp ground lies near the river and the forest. Some of us took the chance to explore the forest. Some broken trees made us aware that there could be bears. So we knew that we had to take care and put all our smelling things away. We had to get used to this (lasts for the whole trip).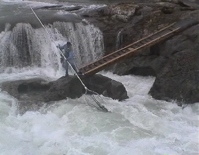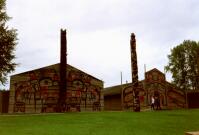 Next morning we first went to Moricetown to watch the locals salmon fishing. It is quite impressing to see people stand in this river and catch the fish with a net.
Ksan Indian Village near Hazelton is an indian village with a small museum. If everything is open you could see local handcrafting and living. Unfortunatelly we could only look from the outside and visit the museum and souvenir shop. This is the place if you want to buy indian souvenirs.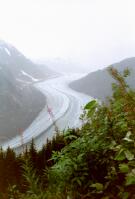 Nothing about the weather yet? It was always good and quite warm ... until we approached Steward and Hyder - Hyder Alaska! Here we are! At Bear Glacier it was already raining heavily. At the campground we unloaded the tents in the pooring rain. The special Alaska mosquito tent should have served as a shelter for the rest of the camping gear. But the poles were missing. So no mosquito tent (which turned out to be no problem in this time of the year). Next destination was Fish Creek. Fish Creek is a very shallow river where all the salmons come. This obviously attracts the bears too (and a lot of tourists). SInce there was no bear activity, we decided to drive up to Salmon Glacier first. You might enjoy a wonderful view over the glacier, if the weather was good enough. So we drove back soon. One more stop at Fish Creek, but still only tons of salmon.
On the way back to the campground we agreed that we'd not cook but rather go back to Steward (Canada) and have some pizza. You'd not believe how easy crossing the border can be. Eric also managed to book two rooms in the Inn for us. Sleeping on the floor was much better than in the rain.
And then of course, there was the required evening in the bar. Get hyderized! This is the first stop in Alaska for many. So there must be something special. Details? Try...
Next morning ... ? Would we finally see bears? Read the next page.
Pictures
Activities
Othello Tunnels near Hope
Collegt bags at Prince George Airport
Very long drives
Moricetown salmon fishing
Ksan Indian Village in Hazelton
Salmon Glacier near Hyder
See salmon and bears at Fish Creek near Hyder
Driving Route
Take Canada "1" highway to hope and continue to Cache Creek.
Highway 97 takes you from.Cache Creek to Prince George. Lac La Hache is a bit more than 100 kilometers (were in Canada, eh!) fromCache Creek.
Yellowhead Highway 16 takes you from Prince George to Kitwanga (direction Prince Rupert). Smithers is a little less than 100 kilometers from Kitwanga.
Cassiar Highway 37 starts in Kitwanga (direction north).
In Meziadine Junction leave Cassiar Highway direction Steward/Hyder. You'll come back to Meziadine Junction the next day.
Vancouver - Lake La Hache: 500 km / 310 miles
Lac La Hache - Smithers: 640 km / 400 miles
Smithers - Hyder: 310 km / 230 miles
Hints and Tips
Prince George is the last major airport before Whitehorse. Get your bags sent here, if you fail to pick them up in Seattle (or Vancouver).
Bring warm cloths and rain gear for Fish Creek and Salmon Glacier. Also bring loads of film.
You'll enter Alaska. Have your passport handy, although you will not need it in general. There's nowhere to go from Hyder other than Steward.
Accommodations
RR 1, Lac La Hache BC V0K 1T0, Tel: 250-396-4497 Fax: 250-396-4497
Showers, facilities, pond
Box 4314, Highway 16, Smithers BC V0J 2N0 Tel: 250-847-3229, Fax: 250-847-3229
Pit toilets, cold water from tab, shelters
Nice location at riverside and forrest
Hyder: Sealaska C.G. / Sealaska Inn
Pay (campground only) showers, laundry, bar next door
Links
---