From Seattle to Vancouver
Welcome to B.C.
Tour start was Seattle in the state of Washington. Most of us met at the welcome reception in the hotel the evening before the tour started. We were a small group of only 6 passengers, which turned out to be very good for a trip to Alaska. Ok, don't want to loose to many words about the welcome reception. The tour itself has much more to offer. Find a bit more information about Seattle on the page about the end of the tour or on my Rocky Mountain High and Canadian Parks West reports.
We left early on Monday August 21. We were still missing Michele. She was supposed to join us in Vancouver. So we had a lot of room in the van. But this would change on the way. Gordana's and Sandra's bags were lost by the airline (KLM again, who else?) and so we did a major shopping stop near Burlington. With a well filled van we headed north towards Canada.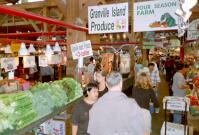 Vancouver: first stop - lunch stop. Granville island is the place to eat. Tons of food, from all 'round the world. Could be your last chance for a long time...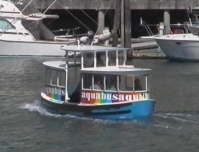 After lunch, we headed straight to North Vancouver, to Capilano RV park. This nice camp ground a little outside the city center is located under the Lions Gate Bridge connecting Stanley Park with North Vancouver. We first set up camp. No big deal for us. Three of the five of us travelled with Trek before. So back to town as soon as possible.
The plan for the afternoon was biking Stanley Park. Allthough there are many other things to do and see in Vancouver (see my Canadian Parks West site), almost all of us went to rent the bikes. This is a very fun way to see one of the major attractions of Vancouver. You pass the Totem Poles, the aquarium, monuments and a lot of great view points. Two hours should be enough.
The Old Spaghetti Factory in Gastown was our choice for dinner. And Michele was there too. So the team was complete now. After a very good dinner, we went looking for a place tpo party. Seems to be a bit hard on Mondays. But we finaly found a place up near Robson. Unfortunatelly we could not leave the van parked alone. Is too dangerous. Thanx Eric and Trevor for staying and giving us the chance to enjoy a great evening, the last party night for quite some time.
Pictures
Activities
Granville Island public market
Mountainbiking Stanley Park
Dinner in the Old Spaghetti Factory
Party Vancouver, the last cicilized place for long
Driving Route
From the hotel to interstate 5 north.
IS 5 north through Seattle.
Shopping stop near Burlington (big mall).
Canadian border on IS 5 between Blaine and White Rock.
Vancouver: via Granville Island to North Vancouver Capilano C.G.
Seattle - Vancouver: 260km / 160 miles
Hints and Tips
Shop in Seattle if you arrive a few days before the tour. Get some good maps and warm equipment. Do not buy too much food. There will be good places on the way.
If you need bigger items, use the shopping stop near Burlington to get camping equipment or replacements if your bagage got lost. These malls also sell cheap food, drinks, batteries, film, ...
Have your passport handy. You'll need it at the border.
Have some Canadian and U.S. cash handy.
Get your lunch on Granville Island market. But be prepared to find a huge choice.
You may decide to setup camp before going back to town. This would allow to get changed for your city trip and pack some cloths for the night out.
Vancouver is not a too save place. We could not leave our van alone at night. Thanx Eric for safeguarding.
You may also join the group in Vancouver. Call Trek in advance and they'll get you in contact with your tour leader.
Accommodations
Holiday Inn Boeing Field, 11244 Pacific Highway Sth, Seattle, Washington, 98168, Tel: 1-206-7620300 Fax: 1-206-7628306
Nice big rooms with bath, shower, toilet
Usually twin shares (depends on booking)
Outdoor swimming pool
Approx. 30 minutes from the city center (via flight museum), bus stop next to the hotel
Airport Shuttel (call), approx. 15 minutes
295 Tomahawk Avenue, North Vancouver BC V7P 1C5, Canada, Phone: (604) 987-4722 Fax: (604) 987-2015
Pool, Showers, Laundry, good facilities
"Under the Bridge" (a bit noisy)
Links
---