From Hyder to Whitehorse
Scenic Cassiar Highway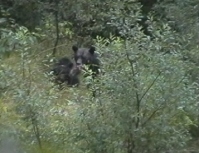 Leaving Hyder ... you saw the pictures on the previous page. We went back to Fish Creek again. Still a lot of salmons, but after a very short time, we saw the first few bears. Mother black bear with a kid. Breakfast! On the way back to town, we had to stop on the road because the bears stayed on the road. Just be careful.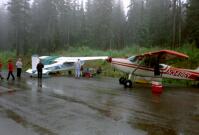 So we finally were ready to leave Hyder. This time the Canadian customs wanted to know exactly, who we were, where we came from (where else???) and ... if we carried any weapons or drugs. But it didn't take too long ... back in Canada.
It was still raining heavily. But then on the very staight road, we could hardly believe it. There were two planes on the parking. Of course we stopped. The two poor guys were stuck here since the day before. They had to land because of the weather. And now they were waiting for the weather to get better and camping under their planes.
Scenic Cassiar Highway is mostly a very long drive. Sure it has scenic views. But we made our own scenic stops. We first stopped at a long road construction section. We had to wait for about half an hour. Why not play volleyball? In the middle of the road! For lunch, we found a picnic area near an airfield. After lunch, we played frisbee - on the airfield of course. All of a sudain, someone yelled and we had to leave the airfield to allow an airplane to land.
After a long drive, we finally arrived at Dease Lake on Moose Meadows campground. We stopped for two nights. So it was worth worth using our big tarps (roof top, moskito tent, kitchen tent) as walls of our kitchen shelter...
We had a full day at Dease Lake. After a late breakfast, we started to the wilderness canoe tour. We drove to the north end of Dease Lake and made the canoes ready. We got some normal two seaters with enough space for bags. But be aware that bags in the canoe may get wet. Starting was a bit hard. The canoes were quite unstable. So rolling over was very possible, at least that's what it felt like. And we just did not want to loose our lunches ;-) .
Dease Lake is a very peacuful area. Enjoy the solitude. Take photos on the way. You may stop at the south end of the lake or at one of the sand banks a bit down the river for lunch (that's what we did).
In the afternoon, we made an unplaned wilderness hike. We just drove a few miles away from the campground, paked the van and started hiking along the river. Just into the woods. We never knew. how far wecould go and where we went. There was this cable car crossing the river. On we go. No more tracks. But nothing stopped us. Just imagine being in the middle of nature, in the forest... Since the adventure seemed not to have been hard enough, most of us decided to take a different way back, up the hills. And again, wonderful nature, but no bears (huch, lucky us).
Some decided that they'd try the sauna. Belive it or not, it worked. A real wood sauna. Although it was not hot enough for a real sauna and noone really felt like diving into the lake, it was warm enough to warm up. It was freezing cold outside. Ok, the campfire helped, it helped even more after adding some of the famouse Canadian Fire Starter, belive it or not.
Thanx Trevor for painting our famouse Trek-America-Moose-Meadows-Sign for Watson Lake. Watch out for a big white sign with red and black paining, our names and a moose of course.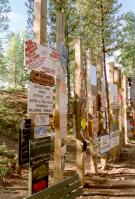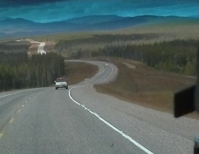 Next morning, back on the road again. Off to Watson Lake. Watson Lake itself is a small village. But it has some history. In the early days, there was a camp for road workers building Alaska Highway. Some of the guys started to put up signs of their home town. Nowadays there are tenthousands of signs and it's still growing. But now it's mostly tourists putting up their signs. Be prepared to find some of your home town. If you go to Watson Lake you may even decide to bring a sign from your home town. This would make you a perfectly prepared Watson Lake traveler.
The rest of the day was manly driving Alaska Highway to Whitehorse. Nothing of special interest. We arrived on the camping on time, set up camp and then went straight to town. Shopping (the last big mall till Anchorage), internet caffee (next morning), laundry, museum, SS Klondike (saved for the way back), dinner at some fast food shops and then off to the movies! Enjoy it. It will be last big city for about a week.
The following morning we stopped a few times around Whitehorse to see a canyon, the airport (where we expected to see an old DC-3, but it was inside the museum and we didn't have time). With the weahter clearing up and a few more stops, we finally approached Dawson Goldrush City. Read more about Dawson City on the next page.
Pictures
Activities
Volleyball on the highway and Frisbee on the airfield
Scenic highway and pilot cars
Wilderness canoeing
Wilderness hikes
Wood sauna
Sign Forest
Driving Route
Frome Hyder take the (only) higway back to Steward and Meziadine Junction.
Take the Cassiar Highway north in Meziadine Junction.
Stop in Dease Lake for two days.
Continue on Cassiar Highway to Upper Liard.
In Upper Liard take Alaska Highway east to Watson Lake (Sign Forest).
Take Alaska Highway West to Whitehorse. The campground is located a few miles before Whitehorse to the right
A few miles after Whitehorse take Klondike Highway to the right.
Pass Carmacks after about one third, Minto about half way and Steward Crossing after two thirds of the way to Dawson City.
Hyder - Moose Meadows: 425 km / 265 miles
Moose Meadows - Whitehorse: 625 km / 390 miles
Whitehorse - Dawson City: 545 km / 340 miles
Hints and Tips
Have your passport ready when leaving Hyder.
Be prepared for long sections of road construction on Cassiar Highway. You may be lucky and already find most of the highway paved. It was not in 2000.
Bring warm cloths and raingear for the canoeing, even if it's not raining. Also bring your lunch. But don't miss the nice lunch stop spot.
Prepare your own sign in Moose Meadows. The campground owners are very friendly and may provide some wood. Bring your own paint. Get inspired and be artists.
You may even decide to bring a sign from home.
Don't try to read all the igns in Watson Lake. But find some of your home town of other Trek groups or us!
Accommodations
Dease Lake: Moose Meadows C.G.
Pay showers, pit toilet
Sauna!
Shelters
Whitehorse: Pioneer R.V. Park
Pay showers
Shop
Hot breakfast (not included, but good deal)
Outside the city
Links
---