Kluane N.P.
Mountains and Glaciers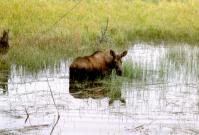 First of all that was just a long drive from McCarty to Kluane N.P. in the Yukon. That's why we decided to stop in Tok. Don't forget the huge Jerry ice cream in Tok. Next day we passed the border into Canada in Border City and then continued on the ALCAN Hwy. It was raining in the beginning and there was even snow on the road. We stopped in Beaver Creek for a burger lunch (snow on the parking). But then the weather cleared up with every mile we got south. And we found the most beautiful weather when we arrived at Kluane Lake.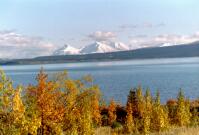 Thanx to Sandra (waiting for another briliant photo) and Trevor (spotting the bear) for this great bear shot. Lucky us we were inside the van (but Sandra wasn't).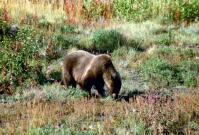 But the main mission (looked almost impossible) was to find a flight. Eric was calling so many places ... end of saison. We stopped at so many places ... closed for end of saison. We were disappointed. We already missed the flights in McCarthy because of the weather. Now that the weather was briliant, we seemed to miss flights because of end of saison.
But we finally found a company on the Haines Junction airport. There were only two options. There was a helicopter flight. Expensive, and not going deep into the mountain range. And there was the plane flight-seeing. Expensive too, limited to four passengers, but going right into the heart of the mountains and glaciers. But some had to stay back. There was only on pilot and only four passenger seats on the plane. But we did it. It was ... (no words for this). We started around 5pm. The light was already a bit low. The colors were so briliant. Red evening light on the white snow.
In the meantime ... thanx Michele and Trevor for preparing dinner. We came to the campground after the flight. The camping is a big RV park. Not too many tents.
Next day was hiking day. First we hiked Auriol Trail. That was probably the most beautiful and certainly the most colorful place I've ever hiked. The whole hike takes about 4 hours. You hike through forests before you come to the bottom of the higher mountains, where you're mostly surronded by bushes. The view is just great.
Some of us were back early, so was Eric (he hiked the "wrong" way round). He asked us if we wanted to hike Kings Throne and Sebastian and me did. So he rought us to a small lake were we started our hike. It was very step up a gravel and rock field. After a bout an hour climb we reached the throne, which is a level area about half way up to the top of the mountain. The mountain as a whole looks like a huge seat (throne) and you know why it was the king's throne once you see the view.
In the mean time, Eric also picked up the rest of the group from Auriol Trail and drove us all back to Haines Junction where we stopped at some take-away for a huge ice cream.
Next night, we stayed on a different campground, Pine Lake which is a state park with minimal camping facilities. But it was very quiet and peaceful. We used the rest of all our food to cook dinner and not have anything to throw away in the end and we repacked all our gear for cleaning (next day in Whitehorse) and the personal belongings for the ferry ride. Plan to leave your big bag in the van on the ferry and only bring an extended day pack and the sleeping bag to deck. You may acces your bag later if you leave it inside the van.
Last night camping ... enjoy! Off to Whitehorse tomorrow...
Pictures
Activities
Driving Route
From McCarthy there's only one way back to Richardson Hwy 4. "Fly" back Edgerton Hwy 10.
In Willow Creek join Richardson Hwy 4 north.
Join Glenn Hwy 1 north direction Tok. Don't leave till Tok Junction.
After a night stay in Tok Junction (camp ground about 1/4 mile direction Fairbanks on Alaska Hwy 2) take Alaska Hwy 2 east.
Cross the border at Border City. Alaska Hwy 2 is Alaska Hwy 1 in Canada.
Continue to Haines Junction.
Hints and Tips
Be prepared for end of saison conditions. Some businesses may already be closed in September. This includes flights, which means that you may have to be flexible about flights, times and conditions.
Consider staying on Pine Lake camp ground for one night. It's basic, but it's very peaceful.
Accommodations
P O Box 760
Mile 1315
Tok AK 99780
Phone: 907-883-7875
Fax: 907-883-7876
Shower, laundry, electricity
Haines Junction: Kluane RV park & campground
Kluane RV Kampground
P.O. Box 5496
Haines Junction, YT Y0B 1L0
867-634-2709
Pay shower, laundry, small shop
Pine Lake: Pine Lake campground
Pit toilets, cold tab water, shelter with fire place
Links
---