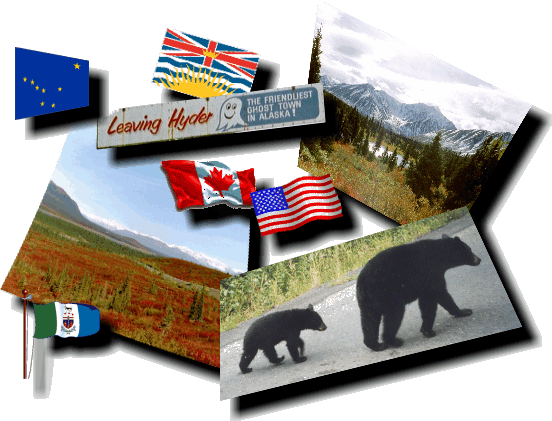 The Holy Macaroni
Tastes Like Chicken Tour 2000
From Seattle to Alaska and back in 26 days!
Wildlife! Nature! Wilderness!
Aurora Borealis - The Northern Lights at their best!
The Real Adventure With The Best Friends!
The Klondike Gold Rush - Historic Sites!
Inside passage (4 nights on the ferry from Skagway to Seattle) included.
Each page contains a tour description of multiple days followed by a few standard information sections with links comming last. One of these sections contains thumbnail pictures of the respective part of the tour (including the ones presented in the description). You can click these images to see the pictures bigger.
Pages and most pictures are my own property and copyright is with me. Thank you Sebastian for your pictures. Copyrights for those pictores are of course with Sebastian.
Please feel free to redistribute these pages in their entire form and please link from your site.
The video of the trek is available on request.
Please print in landscape orientation or scale to fit the paper.
Click on the topics in the title bar for direct navigation.
Use text links at the bottom of each page for navigation.
Use the navigation buttons on the top of each page for navigation.
Credits!
Please also visit the great Klondike Trek report of Gunilla Hanson's trek in 1998. This was to site which helped so much me prepare my trek, was a very good guide book on the way and inspired me to also provide as much useful information as possible.
---
This Trek was booked by